October 6, 2021 6:00 pm - 7:30 pm
Gowrie Training & Consultancy welcome you to join us in a wonderful evening with Dr Kerry Howells to launch her latest book, Untangling you: How can I be grateful when I feel so resentful? and how it relates to the Early Childhood context.
This wine and cheese event includes conversations with Dr Kerry Howells, and an opportunity to purchase her two books:
 

NEW

Untangling You: How can I be grateful when I feel so resentful?

   Gratitude in Education: A Radical View
Untangling you: How can I be grateful when I feel so resentful? is the first book to ever discuss gratitude in terms of its conceptual opposite: resentment. Numerous clinical studies have demonstrated the positive benefits of gratitude on our physical, emotional and social wellbeing. Yet when Kerry presents on the role of gratitude around the world, many in her audiences want to know how they can possibly feel grateful when in fact they feel the exact opposite: resentful.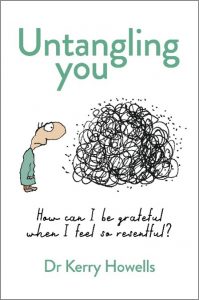 This life-changing book has been written to untangle this question. As you relate to the many examples and real-life stories of 'everyday resentments', you will come to see how the toxic consequences of resentment can be addressed by moving towards gratitude. 
Kerry encourages the reader to embrace gratitude as a step-by-step lifelong practice, and offers strategies that will enable them to start to repair difficult relationships, grow their resilience, and ultimately lead a happier and more fulfilling life.
https://kerryhowells.com/books/untangling-you-how-can-i-be-grateful-when-i-feel-so-resentful/
 More about the book at:
Location: Mary Gibson room, Lady Gowrie Tasmania Integrated Centre, 269 Davey Street, South Hobart.
| Ticket Type | Price | Cart |
| --- | --- | --- |
| Book Launch - General Admission | $10 | |